7th Grade
Subscribe to posts
Getting Ready
For your state project, the first thing you're going to do is create a brochure about your state. First step is to research.  Your brochure must have the following content:
state capital 

state flag 

state flower, bird and tree

year of statehood 

present state government leader (governor)

climate information in the state

Minimum 3 places to visit and things to see/do (find 5 and narrow it down later)

Famous people from the state

Major industries of the state

major natural resources

anything else you found particularly interesting about this state 
Use the template below to collect your information. Note: the spreadsheet is NOT a complete graphic organizer. You will have to add items and organize it yourself!
To use this template:
Sign in to Google Apps
Click the link above

Name it <Your number> <Your State> Research
Share with Mr. Dreyfus-Pai
Resources
Here are some resources for learning about your state:
State Websites - Type in your state's abbreviation and .gov into the address bar to go to that state's page.
Directions
Start creating your brochure in Pages.  Go to the Template Chooser and use the "Classic" brochure template.
Fill in all the required text.  All writing must be in complete paragraphs.
Adjust text size, text box size, colors, and fonts to create a unique and readable brochure.  Be sure that your choice of fonts and colors are not difficult or distracting for readers! Let's shoot for classy, rather than flashy.
Export your brochure as a "Best" quality PDF when complete to allow easy sharing.
To view ALL the brochures from 2014
Budgets
Create your budget in a Google Spreadsheet.  Use 
this spreadsheet
 as an example. Your budget MUST:
Be titled <Your Region> Budget
Have these headings: Item, Description, Cost Each, Quantity, Total
Have sections for Lodging, Transportation, Food, Fuel, and each state
Use formulas to calculate costs
Maps
You will create a map online with your route traveled (including the state capital) and all your sightseeing destinations. 
Make sure you're sign in to Google Apps

Go to

 

Google Maps

Click in the search box and click on "My Custom Maps"

Click Create

Give your map a title: <Region> Road Trip

For your route:

to add the route you will take on your road trip.

Get Directions from your starting point to the next place you will visit.

Click Add Destination and enter the next location.

Repeat step 3 until you are at your endpoint.

For your sightseeing destinations

Add another layer to your map

Add another layer to your map

Call it "Sightseeing", "Fun things to Do", or something similar

Search for your destinations and click "Add to Map"

Customize your map with pin icons, colors, and a base map you like.
Presentations
Your presentation will include everything you have created during this project:
Brochures for each state
Map
Budget
Appropriate decoration (state symbols, pictures from your state)
You have three options for presentations:
Google Slides
1 person from your group should go to Google Drive and create a new Presentation
Share it with your team members, Mr. Dreyfus-Pai, and Mrs. Walsh
Prezi
1 person from your group should go to Prezi.com and create a new account. Use a password that can be shared by your group.
Create a new Prezi from a template that makes sense for your presentation.
Add your items. You may need to use screenshots, export budgets as excel, or use other formatting tricks to display everything.
Remember that your free Prezi account requires that your prezis are public! Do not post any identifying information or pictures of yourself on the prezi.
Padlet
1 person from your group should go to padlet.com and create a new account. Use "Sign in with Google" to link your ctkschool.org account.

Create a new wall. Make it password protected and share the password with your team, Mr. Dreyfus-Pai, and Mrs. Walsh.
Add your items. Your maps and budgets will have to be published (public!) to show up correctly.
In this project, we're going to recreate something we did in 3rd grade, using more advanced tools.
Day 1: Researching
In this project, you will research a planet and create a video report on it.  You will work in groups of 4, and each person will find different information:
Teammate 1: What is your planet's mass and distance from the sun?
Teammate 2: What is your planet made of?
Teammate 3: What are 3 interesting facts about your planet?
Teammate 4: What satellites (moons or rings) does your planet have?

Mercury and Venus have no satellites.  Instead, tell us about their weather and the length of the year.
Day 2: Collecting Images & Script Writing
Split your group in half (2 people each)

Team A: In Solar Walk, take screen shots of your planet and its satellites.
Team B: Using your research, write a script for your video.  Write full sentences and write who will say what.

Your script should include all your facts. Here is an outline for it:
All: The Planet _________
Walter: The Planet _______ has a mass of _______________. It is ______________ kilometers from the sun.
Millie: ______________ is a rocky planet. Its atmosphere is mainly _____________, and it has an iron core. <--DESCRIPTION!
Maybell: ___________ has 2 moons. They are called ___________ and ____________.
Warren: ___________ is the only planet with pink elephants. It was named for 
Day 3: Making your Video
On your iPad, make a new iMovie project with the name of your planet
Insert your pictures in the order you want them to show
Record your voiceovers with your planet facts.  Be sure to follow the guidelines for recording audio.
Change the duration of your images to match the sentences in your script.
Day 4: Publishing
Go to the main screen in iMovie
Tap the Share button and pick Youtube
Use the following setting to share your video:
Title: The Planet _______
Description: Facts about the planet ________
Category: Science & Technology
Tags: [your planet's name], planet, planets, space, or any other words you think are related to this project
Size: Large
Peer Assessment
How to evaluate a source
An eight-point evaluation checklist from the UC Berkeley Library.
What can the URL tell you?

Who wrote the page? Is he, she, or the authoring institution a qualified authority?

Is it dated? Current, timely?

Is information cited authentic?

Does the page have overall integrity and reliability as a source?

What's the bias?

Could the page or site be ironic, like a satire or a spoof?

If you have questions or reservations, how can you satisfy them?
Source Types
Journalism
Every story has a "story arc" - a series of events that the characters move through, where the narrative tension rises and falls.  To better understand the stories we read and practice crafting better stories, we're going to analyze story arcs from our favorite books and then create a cartoon of those stories.
Day 1 - Understanding Story Arcs
Toontastic will help us understand how story arcs work
In the document below, describe the different parts of the story arc for two books. First, for Sign of the Beaver. Second, for a book of your choice.
Day 2/3 - Cartooning
Next, create your cartoon! Based on your story arc. You're going to draw out your settings and characters, animate them, and speak their parts. You won't be graded on your drawings, so you should spend most of your time making sure your stories are clear and get to the heart of the story arc.


The Hour of Code is a global movement reaching tens of millions of students in 180+ countries!


1. Watch this video:
2.
Go to this page
and choose either the Frozen or Angry Birds activity. Work all the way through them! Don't switch activities! Be persistent! Programming is all about problem solving!
3. When you finish, drag and drop your certificate to your desktop. Then try out the
LightBot activity.
It's like the other two, but a little trickier!
Create your page about a manners topic. On each page, write the following:
Name of the topic
Why that topic is important
Explaining how to use those manners. Give examples of how to use them.
Anything that may be different in other cultures, such as other countries or parts of the world.
In addition, you should enhance your page with images, videos, and other links to appropriate content.
Once you've completed your research, you're going to share what you learned by making a fake Facebook page for your Saint.
Create a post from your Saint and another to your Saint, based on what you know about him or her.
Save your page, create a password for it, and bookmark it so you can get back to it later
Add your saint's name and edit the About section.
Add images to the profile or posts
Add "friends" to your fakebook page
Reflection
On the bottom of your "Meet a Saint" Document, answer the following:
Write three interesting facts you learned about other people's saints
Pick one post from your saints page and explain why it makes sense for your saint
Describe one useful technology skill you learned during this project

In order to better understand how the events of 9/11 affected our society, you are going to interview someone who remembers that day. In order to conduct your interview, use a device to record audio only.


Directions
Pick an app for recording. TEST IT OUT BEFORE STARTING YOUR INTERVIEW.
Make sure you've picked a space that is quiet where you won't be interrupted.

Start recording before your start your conversation.
Ask your questions. Listen carefully, don't interrupt, and make sure the recorder doesn't stop.
Stop recording well after the interview is over to make sure you don't cut anything off.
Email the audio recording to yourself.
Try to complete your interview by Monday! Then Mr. Dreyfus-Pai can help you troubleshoot before we edit the audio Thursday.

Today, we're going to go over what makes a password secure, and then go through the process of changing our own passwords.
First, read this comic about password strength.  It's kind of mathy, but you'll get the idea.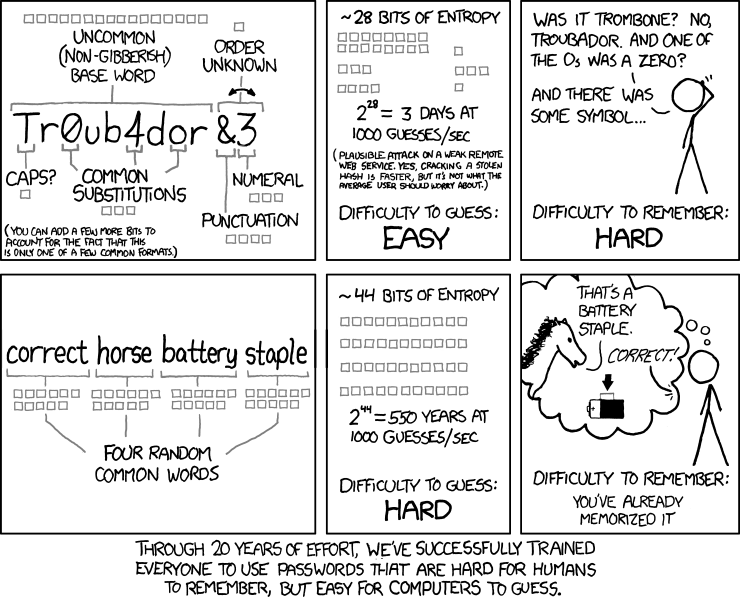 Read this one as well, about password reuse.
There are three big ways that people can get your password.  The comics above cover two:
Guess it using a lot of computer power.  This is called a brute force attack.
Steal it from an existing database or by tricking you into signing up for something.  The first is called hacking, the second is called phishing.
The third is the MOST INSIDIOUS OF ALL!
3. You give it away to someone because you trust them.
This is one of the most common ways that people's passwords get passed around and cause harm!  Always keep your password secure from friends, boyfriends, girlfriends, BFFs, classmates, and students!
Here are the keys to making and keeping a good password:
Make it long and quickly typed so that people watching you can't figure it out
Don't reuse passwords.
Don't use easily guessed facts, like your name, birthday, address, etc.
Don't tell it to anyone (except maybe your parents)!